We recently complete the first of several facelifts (branding) that will be occurring at the camps over the course of the next several years. Below are pictures of the new roof and paint scheme on the Dining Hall at Camp Rokilio. As roofs need to be replaced and buildings need to be painted, we will be using green metal roofs that have a significantly longer lifespan and reduced maintenance as well we will be replacing the dark brown with a lighter color.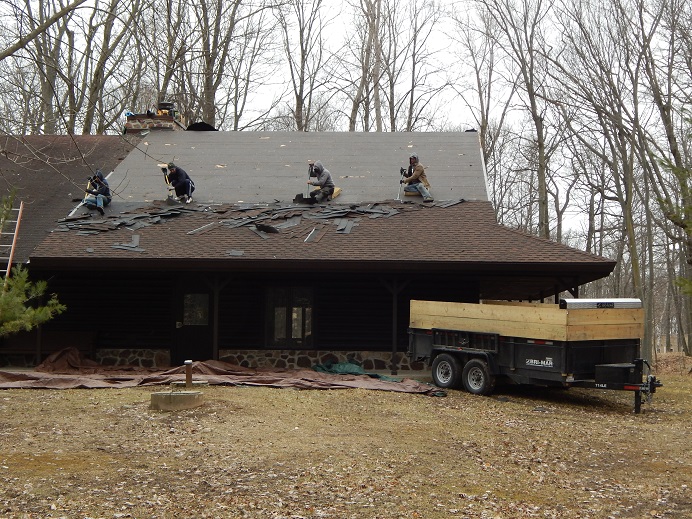 Click the image above for additional pictures of the current renovations at Camp Rokilio.
Part of the plan calls for the disposition of some of the Councils property. The maintenance costs for the Council camps over the next 10 years is expected to exceed $903,000. After much thought, research, outside consultation, and surveys it was determined that the Council needed to reduce its assets so that we could focus on maintaining our remaining facilities at a very high level while adding new programs that attract and meet the needs of today's youth. In addition, it was determined that a new state of the art Webelos Camp needed to be built on the Bear Paw facility to enhance the Webelos experience and increase the transition rate into Boy Scouting.
To that end, we have recently sold Camp Maywood Wilderness. The dollars from the sale will be used for several things including the transition of our long tenured Caretaker, Howard Veldman, back to Kaukauna, investment into our Camping Trust to provide for future maintenance of the camp facilities, development of the new Webelos Camp, additional branding, maintenance, and construction, as well as the preparation for a capital campaign to raise the balance of dollars needed to bring "Imagine 2024" to life. The last Council Capital Campaign gave birth to Cub Scout World!